---
ADVANCED PAIN RELIEF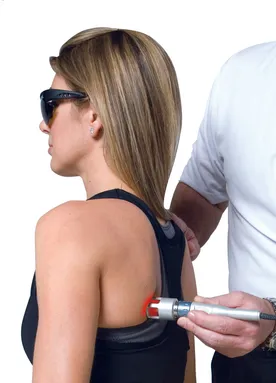 If you struggle with chronic pain, you know its debilitating side effects. Class IV laser therapy, has been found to initiate healing at a cellular level, allowing some patients to return to normal every day activities with little to no pain.
Class IV laser is a therapeutic laser designed to deliver specific red and near-infrared wavelengths of light at a variable wattage and output that induces photochemical reactions with therapeutic benefits. The physiological benefits include:
-reduced inflammation
-pain reduction
-enhanced tissue healing
Laser therapy has been around since the early 1970s in Europe and has been FDA approved in the United States since 2005. The treatment is painless as the laser energy increases circulation, thereby drawing water, oxygen and nutrients to the damaged area. As the metabolic activity of the cell is increased, the body is able to efficiently reduce the mechanisms that cause pain as well as jump starting the healing process to repair the damaged or inflamed tissue.
THE SECRET IS LIGHT ENERGY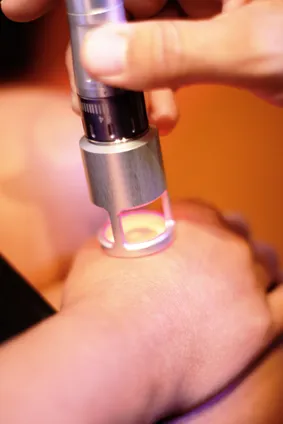 Laser therapy targets damaged tissue with specific wavelengths of light that have been found to interact with tissue and accelerate the healing process.

Through a process called photobiostimulation light energy passes through the skin and enhances the body's natural regenerative functions as well as stimulating the release of endorphins and collagen. It may eventually even normalize damaged or injured tissue.
Many patients report pain relief in as little as one treatment, and most are able to resume normal daily activities with no pain and restricted movement after their therapy is completed.
Most patients report a warm, relaxing sensation. They generally experience no side effects or recovery period.
CONDITIONS TREATED WITH Class IV Laser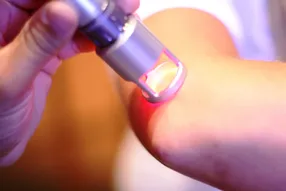 High power laser therapy can stimulate all cell types, including soft tissue ligaments, cartilage, and nerves. Some conditions that have been shown to respond well include:
Peripheral Neuropathy, Fibromyalgia
Back and Neck Pain
Sciatic Pain
Arthritis pain, degenerative Discs/joints
Carpal Tunnel Syndrome
Knee problems
Tendinitis, Trigger Flares
Bunion Pains, Plantar Fasciitis
Sprains, and/or strains
Bruises, Contusions, Burns
Headaches, TMJ, Sinus Trouble
Athletic Injuries
Work related and auto injuries